Breed Comparison
BRIEF BREED COMPARISON:
RUSSIAN TOY (LONG COAT) v PAPILLON v MINATURE PINSCHER v CHIHUAHUA

RUSSIAN TOY (LONG COAT)​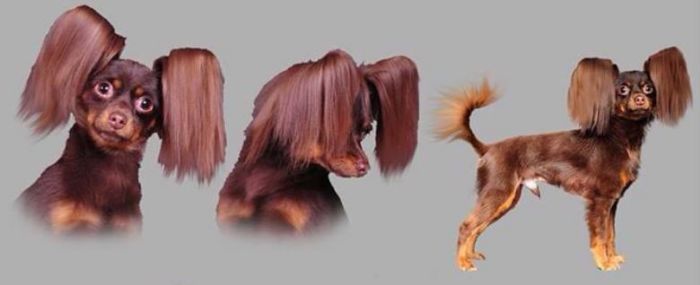 BREED: RUSSIAN TOY (LONG COAT)
BREED ORIGIN: Russia
BREED STD: FCI Standard
HEIGHT: 22-27cm
Disqualification if size over 29cm or less than 18cm.
WEIGHT: Up to 3kg
Disqualification if over 3kg or less than 1.5kg.
EARS
:
Erect, shaped as a high isosceles triangle, set slightly upwards. In longhaired variety may be slightly directed sidewards. Ears are covered with thick, long hair forming a fringe. In adult dogs the fringe, should completely hide the outer edges and tips of the ears.
HEAD
:
Wedge shaped if viewed from above. Skull high but not too wide. (width at level of zygomatic arches does not exceed depth of skull). Roundness pronounced but not exaggerated. Muzzle: shorter than length of skull from 1/3 up to 2/5 of head.
TOPLINE
:
Moderately and gradually sloping from the withers down to the tailset.
PAPILLON


BREED: PAPILLON
BREED ORIGIN: France
BREED STD: Kennel Club, LONDON
HEIGHT: 20.3 - 28 cm
WEIGHT: -
EARS: Large with rounded tips, fringed. Carried obliquely like wings of a butterfly or completely dropped like a moth (phalene)
HEAD: Skull slight round between the ears. Length tip of nose to the stop approximately 1/3 length of head.
TOPLINE: Level topline.
MINATURE PINSCHER

BREED: MINATURE PINSCHER
BREED ORIGIN: Germany
BREED STD: Kennel Club, LONDON
HEIGHT: 25 - 30 cm
WEIGHT: -
EARS: Set on high, as small as possible, erect or dropped.
HEAD: More elongated than short and round. Narrow, without conspicuous cheek formation. In proportion to body. Skull flat when viewed from front. Muzzle rather strong and proportionate to skull.
TOPLINE: Back line straight, sloping towards rear.
CHIHUAHUA


BREED: CHIHUAHUA
BREED ORIGIN: Mexico
BREED STD: Kennel Club, LONDON
HEIGHT: -
WEIGHT: 1.8 - 2.7kg
EARS
:
Erect. Set at angle approximately 45 degrees, giving breadth between ears
HEAD
:
Well rounded 'apple dome' skull.
Muzzle moderately short, slightly pointed. Definite stop.
TOPLINE
:
Level back.
A level back means the height of the back at the withers should be the same as the height at the root of the tail and should be straight between those two points.
Reference: Australia National Kennel Council : http://ankc.org.au/Breed/Index/1?Search.ItemsPerPage=10&Search.GroupID=1&page=3